Bird Gyms
Three Level Bird Gym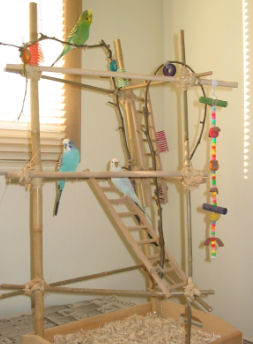 Supplies:
A wooden tray
4 pieces of bamboo (1m or 19.5")
9 perches, each ~12"
Materials to make toys (plastic springs, leather chew strip, beads, etc)
aspen shaving, non - toxic wood glue, tape, hemp/raffi rope
a saw (hand held or electrical)
Natural non-toxic tree branches
Instructions:
Wash everything carefully and leave to dry. Take the 4 pieces of 19.5" and using hemp or raffi rope, tie three perches to form a triangular structure that looks
LIKE THIS
. Glue this structure to the tray and leave to dry. After it is dried, cover up all the dried glue with tape. Then make two additional layers with the 6 remaining perches
LIKE SO
.
Coat the tray with shavings. Tie in ladders and home made toys and you're done!